EarSay is an artist-driven non-profit arts organization dedicated to uncovering and portraying stories of the uncelebrated. Our projects bridge the divide between documentary and expressive forms in books, exhibitions, on stage, in sound & electronic media. We are committed to fostering understanding across cultures, generations, gender and class, through artistic productions and education. We bring our work to theatres, museums, schools, festivals, universities and prisons. Scroll over the top menu to view projects, get information, shop, etc.
Saturday Nov 19 at 8pm
Tickets in Advance Recommended. CLICK HERE
Video from Summer 2022 EarSay Youth Program
EarSay Youth Arts in Education Programs started in collaboration with the Crossing the BLVD book, radio, exhibition project and has continued since September 11, 2001 to be an ongoing partnership with the International High Schools. The methodology of interviews, storytelling, photography, video and radio is embedded in the artistic expression for the new projects. In fall 2022 we will be partnering with The Moth Podcast with their educational storytelling workshops.
In the summer 2022, EarSay ran a video production workshop with 20 students at the International High School at LaGuardia Community College in Queens, New York directed by filmmaker Tony Koros. Here are some photos of the workshops and one final video above. More to come on our youtube channel.
New Project Coming in 2022
Judith Sloan and Andrew Griffin won 2022 Artist Commissioning Grants from the New York State Council on the Arts for a new project of music and theatre focused on Climate Crisis called This Is Not A Drill. We are interviewing people not only about the science but on how they feel about climate issues, and what they are doing. What kind of actions are you taking? We are looking for people of all ages and races and from various parts of the world. If you are interesting in being interviewed please email us info at earsay.org
Performance Sunday May 22 @5pm
Sunday May [email protected] 5 pm.
St. Marks Church in the Bowery
Vissi Dance Theater Premiers Breathe
guest performances by Judith Sloan, Andrew Griffin, Lee Lund Studio of Dance and Poet Gold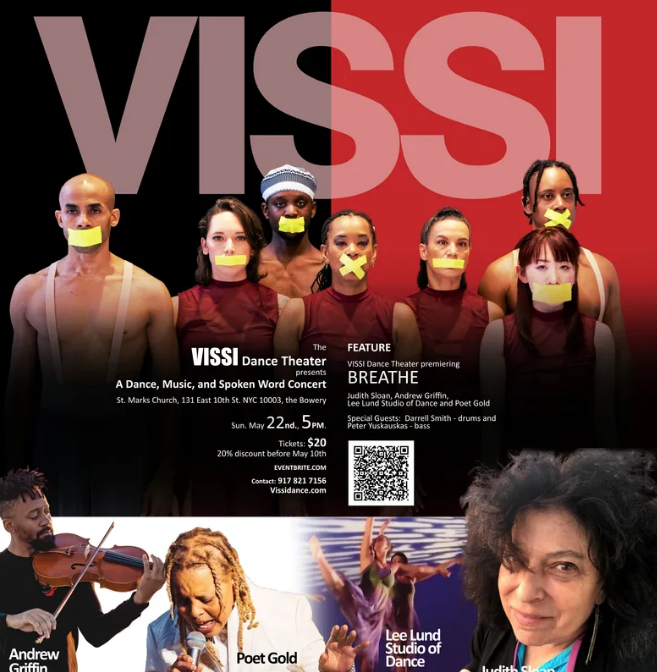 Sun, May 22, 2022. 5:00 PM – 7:30 PM
St. Mark's Church in-the-Bowery 131 E 10th St New York, NY 10003

Legendary club dancer, author, founder and modern dance choreographer, Courtney Ffrench, will premiere his most recent collaborative work Breathe, featuring music by Dr. Darrell Smith of the Dal Segno Trio and the New School of Jazz and Contemporary Music.
Breathe speaks of the servant trapped in a caste system that condemns the person to servitude for their entire existence. So low is this servant, that they are required to walk backwards while wiping away their foot prints, so they don't offend. This servant will die as they were born; The Untouchable.
Section two explores the demand for pure physical labor through exploitation, manufactured wars, economic systems i.e., slavery, indentured service, serfdom and capitalism. This servant works at the pleasure of the ruling class and fights perpetually for the right of self-determination; The Picker.
Thousands of Korean women, were used as sex slaves to Japanese soldiers in World War 2. In fact, this atrocity was not limited to Korean women, but throughout history, men have shown a bottomless appetite for sexual exploitation. This servant is displayed ubiquitously through out the modern world, from street corners to glass-wall bedrooms in the Redlight District; The Comfort Woman.
Virtual Performance
Sunday March 6, 4pm eastern, 3pm central

LANGUAGE MAINTENANCE (Working Title)
a solo show performed and written by San Antonio actor
Georgette Lockwood

Script development and direction
Judith Sloan

A story about a secret artist, immigration, bilingual education, and the ripple effects of trauma between mothers and daughters.
Admission is free: MAKE A RESERVATION HERE
We will send you the zoom link
A note from Georgette: "This story began as an exhibition of haunting, striking art made by my mother, Rocio Alvarado Lockwood. Some of the images were familiar to me, and some I had never seen before. My family discovered memoirs scribbled in between her lecture notes on Bilingual Education. As I walked around the exhibition, I had a feeling that something was missing. Her diaries shed light on her strange images including dancing skeletons and dolls whose mouths are rubbed out. The pictures portray the pain and discrimination of an immigrant child, a pain that echoes in me when I remember my mom. A voice told me to keep searching for the light, as if Rocio was telling me, "If I went through all this, it is good we all know it so as not to repeat." I consider this play the "other" exhibition, where we see the strength of love that transforms pain, so that we may transform it ourselves."
A new project supported by the Network of Ensemble Theaters Virtual Exploration Grant
Thanks for Showing Up and Staying Safe
An Afternoon of Theatre in Brooklyn, Sunday Dec 5 @2pm Ticket link below!
TICKETS $15 includes light refreshments. Performance followed by a talkback.
Or you can make a reservation here and receive an invoice: [email protected]
Palestinian-American author, actress, playwright, and activist Najla Said performs her one-woman show for one afternoon only. Daughter of Edward W. Said, the Columbia University professor who until his death in 2003 was a cultural critic and public intellectual known for his book Orientalism, Najla guides the audience through her coming-of-age story. She shares her journey from growing up on the Upper West Side of Manhattan to becoming an Arab-American on her own terms. Directed by Sturgis Warner
"There's something heroic about her broader stance to a topic that generates fury and recrimination, she brings a lightness and a steadfast refusal to hate." New York Times
Opening Act by actress/writer/audio artist Judith Sloan "A welcome voice crying in the contemporary wilderness of political correctness… seasoned with tolerance and joie de vivre." Theater Week
A physically distanced, socially engaged event. Audience must show proof of vaccine and wear masks.
A.R.T./New York
LuEsther T. Mertz South Oxford Space in The Great Room, 2nd floor
138 South Oxford Street
(between Atlantic Avenue and Fulton Street)
Brooklyn, NY 11217
Presented by EarSay, with support from the THE NEW YORK CITY DEPARTMENT OF CULTURAL AFFAIRS (DCLA) and by the New York State Council on the Arts NYSCA Restart NY: Rapid Live Performance Grant with the support of the Office of the Governor and the New York State Legislature.
FREE PERFORMANCE OCT 23 @ 4pm Queens Theatre

Writer/actress Judith Sloan presents songs from two of her projects:
It Can Happen Here and 1001 Voices: Symphony for a New America Featuring singers: Meah Pace, Melissa McMillan, Alba Ponce de Leon, Michelle Beth Herman, with Dominic Frigo on keyboard. "Sloan is a welcome voice crying in the contemporary wilderness of political correctness. On-the-money satire seasoned with tolerance and joie de vivre." Theater Week Special Guest Artist Najla Said will perform an excerpt from her solo show, Palestine. "There's something heroic about her broader stance to a topic that generates fury and recrimination, she brings a lightness and a steadfast refusal to hate." NY Times
TICKETS ARE FREE – COME TO THE DOOR or GET ONLINE IN ADVANCE
CLICK HERE: TIX
Continental Divide From Crossing the BLVD

In 2002 Warren Lehrer and Judith Sloan interviewed Shekaiba Wakili for inclusion in the Crossing the BLVD book, exhibition and audio CD. This piece was composed by Scott Johnson for Crossing the BLVD. Shekaiba reflects on her love for and memories of Afghanistan, her displacement and longing for home. On August 15, 2021, almost 20 years after the 9/11 attacks in the U.S. the Taliban took over control of Kabul. We revisit this piece to honor the lives and pain of those fleeing the Taliban, those who fled the Russian invasion and those Afghans scattered throughout the world.
Warren Lehrer on Design Matters: Listen Here
Debbie Millman interviews Warren Lehrer, writer, an artist and designer. His books are graphically and typographically eye-popping, and his multi-media works have influenced two generations of designers. He's worked in audio, print, video, and theater, and his work has been collected by museums like MOMA and the Getty. He's is a living, breathing example that what a creative person can do is limited only by the scope of their interests and passions. He's here to talk about his career, and about his latest project—a book of visual poems written by Dennis J. Bernstein that Warren composed for the page. And a very special thank you to AC Hotels by Marriott, Member of Marriott Bonvoy, for their support of this episode. AC Hotels. The Perfectly Precise Hotel. #InPaidPartnershipwithACHotels
Five Oceans In a Teaspoon, Available now!
EarSay is delighted to announce the publication of Warren Lehrer and Dennis J Bernstein's new book Five Oceans in a Teaspoon (Paper Crown Press, September 2019).
Order directly from Publisher!
ADVANCE PRAISE
"Brilliant and beautiful! Thank you for bringing in the new."Alice Walker, Pulitzer Prize-winning poet, author of The Color Purple.
"Bernstein and Lehrer—the Lennon and McCartney of viz-lit—have reunited at the height of their creative powers. Five Oceans in a Teaspoon speaks to the madness, vulnerability, aspiration and language of our time. The gutsiness and raw emotion of the writing, revelatory appeal of the visual compositions, and brevity of the form creates an intensely moving experiential journey." Steven Heller, Design and Visual Culture Historian, author New York Times Book Review Visuals column
"In the long history of graphic word works, few, if any, have this range and repleteness…A completely virtuosic work." Johanna Drucker Foremost Vis Lit scholar, Breslauer Professor of Bibliographical Studies, UCLA
"Five Oceans in a Teaspoon re-envisions a poetry memoir via a textual kaleidoscope… Bernstein and Lehrer are the Rodgers and Hart of Visual Poetry." Bob Holman Poet, poetry activist chronicler, founder: Bowery Poetry Club