Winner of 9 Awards including Independent Publisher's Outstanding Book of the Year Award, the International Book Award for Best New Fiction, and a Print Magazine Regional Design Award.
A LIFE IN BOOKS: The Rise and Fall of Bleu Mobley is an illuminated novel that contains 101 books within it, all written and designed by Lehrer's author- protagonist, Bleu Mobley. Nearly a year after the controversial author is thrown into a federal prison for refusing to reveal the name of a con dential source, he decides to break his silence. But it's not as simple as giving up a name to the grand jury. Over the course of one long night, in the darkness of his prison cell, he whispers his life story into a microcassette recorder, tracing his journey from the public housing project of his youth to a career as a journalist, then experimental novelist, college professor, accidental bestselling author, pop-culture pundit, and unindicted prisoner. In A LIFE IN BOOKS: The Rise and Fall of Bleu Mobley, Mobley's autobiography/apologia is paired with a review of all 101 of his books. Each book is represented by its rst edition cover design and catalogue copy, and 34 of the books are excerpted. The resulting retrospective contrasts the published writings (which read like short-short stories) with the author's confessional memoir, forming a most unusual portrait of a well-intentioned, obsessively inventive (but ethically challenged) visionary.
Written and designed by Warren Lehrer, A LIFE IN BOOKS: The Rise and Fall of Bleu Mobley is an extraordinarily original, hilarious, heartwarming and heart- wrenching exploration of one man's use of books as a means of understanding himself, the people around him, and a half century of American/global events. This genre-defying work orchestrates a symphony of characters: lovers, enemies, runaways, rebels, thinkers, dreamers, believers, skeptics, the displaced and dispossessed, even forgotten moons and wily old cats. It celebrates the mysteries and contradictions of the creative process, grapples with the future of the book as a medium and the lines that separate and blur truth, myth, and ction. This four color, full-length novel—containing over 101 hilarious and scrumptious book cover designs (and book-like objects) designed by Lehrer with illustrations by Lehrer, Melina Rodrigo and Donna Chang—is a fusion of art and literature, and distinguishes itself as one of those books you want to hold in your hands, read, look at, re-read, share with friends, and treasure for years to come.
A LIFE IN BOOKS: hardcover, 7.5" x 9.75", 380 page, 4 color throughout, smythe sewn, printed on acid free paper free paper.
---
SAMPLE SPREADS, PAGES, MOBLEY BOOK COVERS, DETAILS
Some Mobley book covers and A LIFE IN BOOKS page details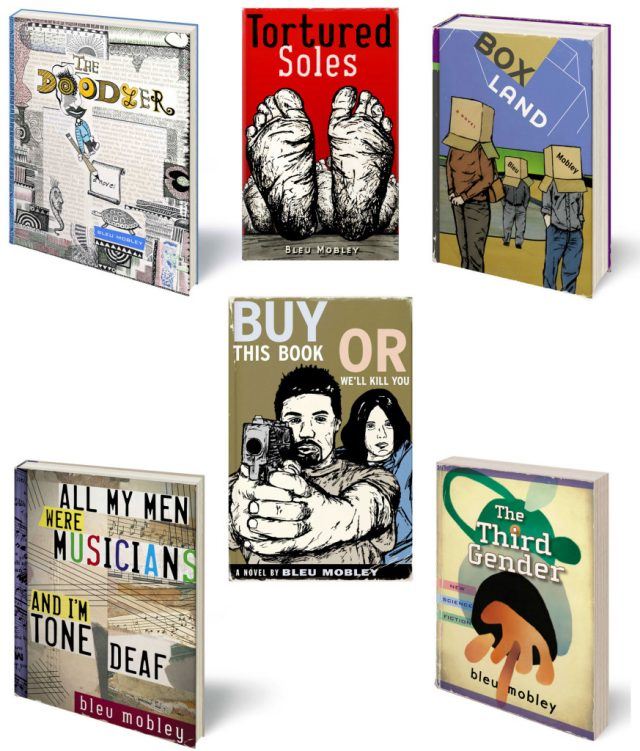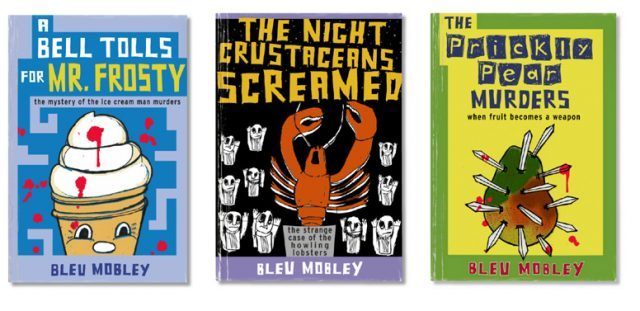 A few titles published under Mobley's (self-help) nom de plume Dr. Sky Jacobs




Use A LIFE IN BOOKS as a teaching tool: as a text and a resource in Creative Writing, College Freshman Writing, Writing for Artists, Writing for Designers, Graphic Design, Illustration, Book Arts, Fiction Writing, Short Story Writing, Ethics, Semiotics, and Critical Issues (in Contemporary Literature and Art) classes, as well as for workshops in Unleashing Creativity, or any of the above subjects.
With the help of a STUDY GUIDE, students can use A LIFE IN BOOKS as a point of departure to generate their own book ideas, titles, catalog copy, cover designs, and book excerpts. By developing book ideas laterally, writing titles, catalog copy, and then excerpts (of short story length), students build confidence incrementally, leading them up to more long form writing. Students are encouraged to draw on their own experiences, as well as venture into subjects, places, and characters they are not as familiar with. Appropriate for beginning, intermediate, advanced liberal arts and studio arts students. Art and design students can develop their writing skills in conjunction with designing content they have written themselves. Students in Interdisciplinary classes and/or simultaneous sections of Writing and Design/ Illustration or Art of The Book classes can collaborate on developing book ideas and writing/designing a (printed and/or electronic) book from beginning to end. Classes could also choose to participate in the A LIFE IN BOOKS Writing Contest, or select a particular Bleu Mobley title of their choosing to complete as a class or interdisciplinary set of classes.
As a text, A LIFE IN BOOKS presents a panorama view of a paradoxical and multi-cultural America spanning 50 years in the life of Bleu Mobley, the people in his life and the characters in his books. It stimulates thought and discussion about the relationship between a writer/artist and the work they produce The novel balances satire with complex character portrayals, while tackling serious issues like mental illness, living with disabilities, war and peace, death and dying, interracial marriage/living in diverse communities, remaining true to one's ideals/selling out, and the future of the book—all potential discussion points. Ethical dilemmas are raised throughout A LIFE IN BOOKS, as is the quest for freedom and the prospect of sacrificing freedom(s) for a greater cause.
The videos, additional text excerpts (not included in the printed edition), interviews, articles, and other supplemental materials—including the EXHIBITION and Warren Lehrer's PERFORMANCE/LECTURE can also be used to study and discuss A LIFE IN BOOKS, and serve as an example of how creative writing can manifest itself beyond the confines of a book through other media.
Inquire about using the book/A LIFE IN BOOK project as a teaching tool.
_ _ _ _ _ _ _ _ _
The [A Life In Books] book sits at the center of a multimedia project that includes a traveling exhibition, a performance/lecture, short films and animations, and a study guide. 
Find out more about the Exhibition.
Find out more about the performance.
Visit the A Life In Books project website